When Quality Meets Friendship: Lance, Denton, and Ashli's Visit to Seeyesdoor Factory
Seeyesdoor had the pleasure of welcoming three extraordinary friends, Lance, Denton, and Ashli, all the way from Los Angeles, USA. Their enthusiasm for our products ignited a passion in our team that went beyond business.
As soon as they arrived in Foshan, China, the three friends were eager to see our factory and explore the broad range of high-quality products we produce. They were particularly impressed with our aluminum alloy doors, wooden doors, garage doors, and windows and could not hide their admiration for our competitive prices. This appreciation would later manifest in the form of an unforgettable partnership.
The unique part of this story is not the fact that we clinched the deal with Lance, Denton, and Ashli. Instead, it's how Seeyesdoor and the three friends got closer because of the visit. We had not expected to hit it off so naturally with them, as foreigners in a foreign land. However, our shared passion for great products and business ethics sent us on a journey of friendship.
While at the factory, Lance, Denton, and Ashli were excited to film a video for us showcasing our innovative products. It was impressive to see their passion and energy combined with our shared values of excellence and customer satisfaction.
One of the memorable moments we had during their visit was when we all had lunch together at a local restaurant. We shared stories, laughter, and not to mention delicious Chinese cuisine. We were delighted to introduce them to some of our favorite dishes, and they were equally thrilled to try something new.
It's moments like this that remind us it's not just about selling products, but it's also about building a genuine connection with our customers. The lunch was not just about satisfying our hunger but also about forging relationships that will last beyond the business transaction.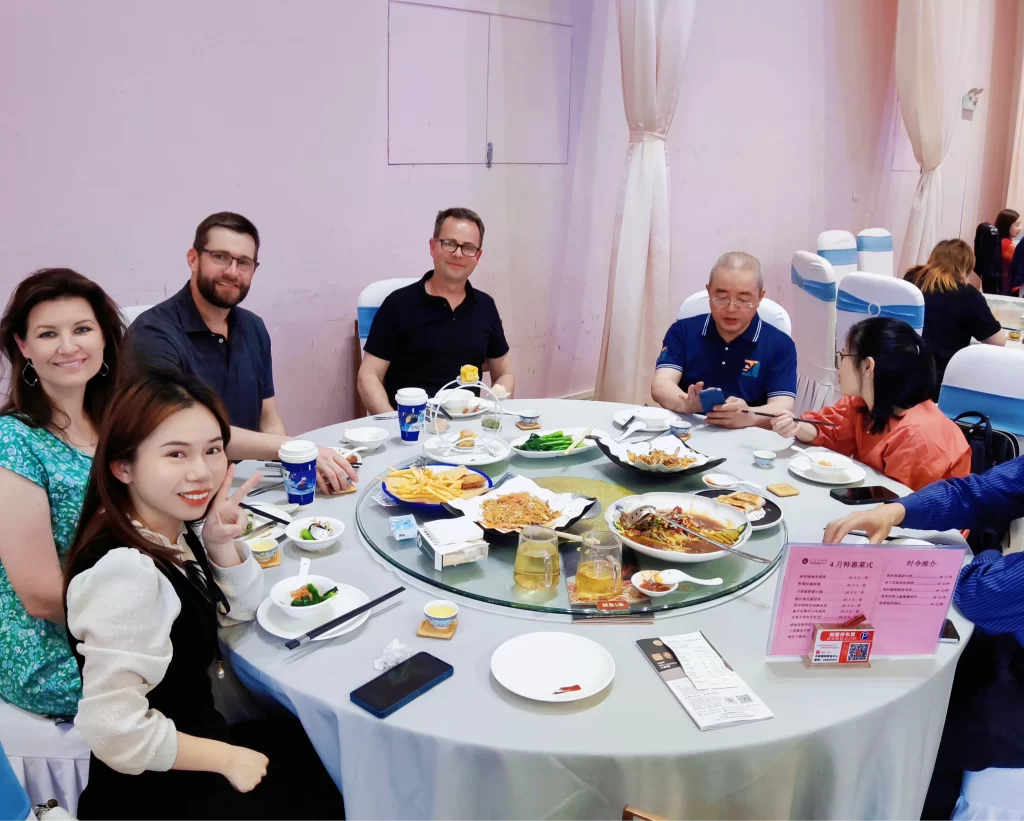 We take enormous pride in the fact that Lance, Denton, and Ashli were not only satisfied but thrilled with the quality of our products. Their satisfaction with our aluminum alloy doors, wooden doors, garage doors, and windows was evident in their decision to partner with us, and we could not be happier. Hearing them express their admiration for our products and their intent to return for more sealed our belief in the value of our work. For us at Seeyesdoor, there is no greater reward than seeing satisfied customers who believe in our quality and vision.
In the end, our journey together was marked by not just high-quality products and business ventures but also the forging of a friendship that will last. Lance, Denton, and Ashli left Foshan with shared memories of delicious Chinese food, breathtaking landscapes in Guangdong, and the satisfaction of fulfilling their business needs at Seeyesdoor.
Looking back, it's safe to say that their visit to our factory in Foshan marked the beginning of a lasting partnership built on shared values and a love for great products. We cannot wait to continue collaborating with Lance, Denton, and Ashli and welcome more clients into our Seeyesdoor community.